Honda Elevate has the biggest boot space and the most ground clearance,  And today we have brought a Honda Elevate vs Kia Seltos comparison of these two cars for you. So is there a good place in the second row? Whose music system is better? Whose headlight throw is better? We will do all the tests so that you as a car buyer will get complete clarity. Which one is better for you out of these two and why? Now here we will not talk about the design of both the cars, Design is a very subjective topic. You may like the Elevate, I may like the Seltos. So it's a very subjective matter, And you have seen this thing of the car. So we will cover those facts which are important for you.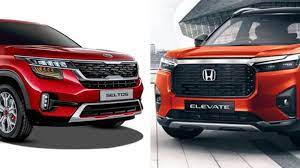 HEADLIGHTS
Now if you look at the headlights of both the cars. On the top-end model, you get LED headlamps in both. Even the fog lamps are complete LED.
HEADLIGHT THROW
Now the throw of the headlight of the Seltos is decent enough I feel a little better than before, Overall, its throw, its spread is decent enough. On the other hand, Honda Elevate's high beam, low beam, Even its spread reach, Is a little better compared to the Seltos.
WIPER
The wipers in both the cars are given as regular. So you also get an expensive set of wipers, Like Bosch makes their Aero 10, I am not trying to publicize. But I am trying to tell a differentiation, That the regular wipers cost somewhere around 500-600 rupees, And the expensive ones are at least 3-4 times more expensive, Now the more important safety is for you.
The more important security is for you. That's why I recommend you the Red Tiger's F7n Plus dash camera. In the front, you have 4K, In the rear, you have HD, Both record wide view. And this is very clear. You get a 3.2-inch display on which you can check videos, You also get a GPS to know the location of the video. You can also download videos on the Red Tiger app And share it easily. You also get a hardwire kit for parking monitor system. With which you can actually safeguard your car even when the car is parked. You also get a 1-year warranty on this. And you also get a doorstep pickup which is also Pan India.
TYRE SIZE
Now if you talk about the tire size of both these cars, So in the top model of Elevate, you get a 17-inch wheel. Whereas Seltos has only one product in this category, Which gives you 18-inch wheels. On the top end model. In the lower variants of both the cars, You get 16-inch tyres. And in both the spare tyres, SPARE TYRE You get a smaller size.
Ground clearance, GROUND CLEARANCE In Seltos, you get a 190mm ground clearance, Whereas Elevate offers you a 220mm ground clearance. Now it's time for the boot space, BOOTSPACE If you look at Kia Seltos, It has a 433-litre boot space. But like I always say. Don't go empty on the numbers, When we did the boot test, There was a full-size suitcase, a medium-sized suitcase, And a small-sized suitcase. And a space for a small backpack at the most.
So your boot was almost full, So if a family is going on a road trip, There is sufficient storage space for them, In the Kia Seltos. Whereas in the Honda Elevate, There is a 458-litre boot space, Again, don't go empty on the numbers, Here we have a full-size suitcase, A medium-sized suitcase, And a small-sized suitcase. Still, there was a lot of space left.
To actually add maybe one or two more medium-sized suitcases also. So in terms of boot space. Seltos is more than sufficient for you. But Elevate offers you a much larger boot space comparatively. Because of which it gets an extra-added advantage here KEY If you look at the key of Kia Seltos, You get a lock/unlock, boot open and a remote start feature, And this key looks fantastic. If you look at the key of Honda Elevate, You get a lock/unlock, and remote start feature.
Getting in and out of the Elevate is not an issue, GETTING IN & OUT Because of the slightly high ground clearance, If you are old then you might have a little problem. While getting in and out of the car. Whereas in the Seltos is seamless. Front, rear. No matter where you want to sit, It's quite easy to get into the car. Now let's go inside these two cars, To show you a lot more things, So what are we waiting for?
HONDA ELEVATE INTERIOR
Let's go! The Honda Elevate comes with black and tan interiors, The tan elements you see on the dashboard, Are generally soft-touch elements. Otherwise, the rest of the elements are hard plastics. The fit and finish is good, The touch and feel of the materials are good. But this premium doesn't feel very upmarket.
The seats are very comfortable, Honda City has always been known for its seats. And in the Elevate, Similar seats have been given. So it's quite soft, So if you are driving in the city. It's very nice and cushiony, It will give you a sofa-type feel. But if you are going on a long journey for 5-6 hours. Then you will feel a little uncomfortable, You will start to sink in the seat, This is one thing so you will have to take a break. When you are doing a long 5-7 hour trip. Otherwise, it's a very comfortable seat.
Now in the Honda Elevate you get decent enough features, Which I am leaving for you in the list. If you look at its touchscreen system.
HONDA ELEVATE TOUCHSCREEN
This 10-inch screen has a good response. The UI is also decent enough, The brightness is also good, But it doesn't feel very premium. If I talk about its UI or quality.
HONDA ELEVATE REVERSE CAMERA
There is a reverse parking camera, Which is very average in quality. At this price point. You don't expect a camera of this quality. The sunroof is not panoramic, It's regular, But if you look at its size it's quite big. Compared to a regular-sized sunroof.
HONDA ELEVATE STEERING ADJUSTMENT
Its steering wheel is telescopic, Which means it can be adjusted for height and reach.
HONDA ELEVATE SEAT ADJUSTMENT
The driver's seat is completely manual, There is no electric option.
HONDA ELEVATE STORAGE SPACES
There are two slots in the front door pad so you can fit a 1-litre bottle here. There are two cup holders at the front. The glovebox is not that big. It's quite small in size comparatively. The rear passengers have a 1-litre bottle in the door pad. And there is also space for two cup holders in the armrest.
HONDA ELEVATE CHARGING PORTS
There is a 12V socket for charging, There is a wireless charging pad for the mobile. Which can be switched on and off, There are two USB charging ports at the front. And a 12V charging socket for the rear passengers. There is a lot of space at the back seat of the Elevate, So there is no shortage of headroom, Even if you are a tall passenger.
The knee room is also very spacious, Overall, you have two adjustable headrests here. If you provide thigh support it's okay, It could have been better. But what I really like about this car, Firstly, it has a better recline, Compared to most other SUVs. Secondly, the floor is not completely flat, It's kept at an angle, So that you can sit comfortably at the back.
HONDA ELEVATE SECOND ROW SEATING
When we had the three passengers in Elevate, The overall shoulder room was decent, So if three people were sitting at the back. They wouldn't be able to sit comfortably, Secondly, the AC vents are quite far back. So there is less knee room. Especially for the passenger sitting in the middle. And there is no headrest in the middle.
KIA SELTOS INTERIOR
On one hand, the elevator interiors are classy and simplistic. On the other hand, the interior of the Seltos, Is very premium and technology filled. You get a lot of things here, And you get multiple color interiors. Whether you are taking the GT line, Tech line or X line, You get all different color interiors for each one of them. The front seats of the Seltos, Are neither too soft nor too firm, So technically, they should be comfortable. For a long distance trip. Now there is a small catch here, The side support is a little too much for me.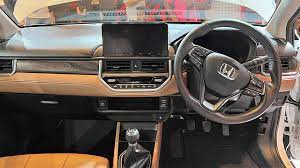 So if you are quite wide, You might feel uncomfortable on the seat. Specifically if you are going on a long journey, More towards the lumbar part. Other than that, I have no complaints with the Seltos, It's quite a comfortable car, definitely. One thing that differentiates the Seltos From the Elevate. Is that the Elevate's interior feels a little more roomy, And if you take a dark shade in the Seltos, You will feel a little claustrophobic.
Despite the fact that you have a panoramic sunroof here. Now you get a lot of features in the Seltos, And if you compare it with the Elevate, You get a lot of features here overall. The number of the features included in the Elevate.
Maybe you get double the features in the Seltos, Because there are a lot of features, That the Seltos is offering today, In this entire category. You get a lot of safety features in the Seltos, Including the fact that the ADAS, Is not only for the front, But the side and rear aspects are also covered here. Whereas in the Elevate you get the ADAS features only for the front.
KIA SELTOS STORAGE SPACES
In the front door pad of the Seltos you can easily fit 1 litre bottles. You also get space for 2 cupholders. There is armrest in the front which is not too deep and is decent enough. The glovebox is also good 2nd row passengers can easily fit 1 litre bottles in the door pad. Rear seat has 2 cup holders in the armrest as well.
KIA SELTOS CHARGING PORTS
For charging, you get a 12V USB and Type C charging port along with a mobile wireless charging port. Rear seat has 2 charging ports, both of which are Type C available.
KIA SELTOS STEERING ADJUSTMENT Seltos steering wheel is also adjustable for height and reach.
KIA SELTOS SEAT ADJUSTMENT The driver's seat is completely electrically adjustable.
KIA SELTOS TOUCHSCREEN
Touchscreen infotainment has a good response, UI quality is good, premium feel. Brightness is also good, so you won't feel lag while driving,
KIA SELTOS REVERSE CAMERA
360 camera is good, overall usage is easy. Clarity is also good, so you won't have any issues in day or night. So it's one of the best 360 degree cameras right now at this price point. The Seltos has decent enough space at the back, Knee room is decent enough headroom is okay, Because it has a panoramic sunroof which is why generally the headroom is less. It feels more spacious, despite a lot of black in the interior. Headrest is adjustable, which is a good thing.
And if you want extra privacy, you can raise the sun blind The overall thigh support is a bit better, Just like the Elevate thigh support is a bit less here, especially if you're a tall passenger. Other than that seat recline can be increased for more comfort. Let's start the Elevate, Shifting to drive mode, And here we go. In Elevate, you get only one engine option, petrol 1.5 litre, This is available with 6-speed manual and CVT. Now in this you get turbo, hybrid, nothing extra is available. But in Elevate, in the coming timeline, you are going to get an, Electric variant, an all-electric variant. It will take two years, two and a half years, maybe to come in the market. So now this petrol engine,
this is the same engine that you get in Honda City and Honda City. Honda City's engine is always known for it's amazing performance. You don't have to struggle a lot, you don't have to shift gears a lot, Like it will take efforts to overtake. That is not the case. Its drivability is very good. That term is called drivability. So overall, you get a good pick-up in this, Drive it in the city, you can drive it on the highway too, it is comfortable, there is no problem. Yes, if you want to overtake someone very fast at 100-120 kmph, then you will have to shift gears. Now the CVT, CVT technically does not have gear shifts, But in this you have been given seven steps in CVT in different ratios.
I am saying a complicated term, but simply understand that you have been given seven speeds in a CVT also, Which technically is not a reality. Its paddle shifters are very good and it becomes very convenient to shift. So if you buy CVT, try and start using paddle shifters. If you have a habit of shifting gears it will make your life very comfortable.
Overall, it is a very good car to sit in and drive and the steering wheel is also very light. So if you go to the city, on the highway, you will have no problem, You will not feel the struggle to drive this car. And more importantly, your ride quality is also very good in this car. You go through potholes, go through bad roads, You will not feel the bumps much while you are in the car.
The best part is that you can see the edges of the bonnet, So if you were driving a small car before, You won't take a lot of time to get used to this car. And overall, the handling of the car is decent enough, It's not like the car rolls a lot or anything, it's quite comfortable.
So you don't have to worry about handling at all. But remember one thing, this is not a high-performance engine. It can easily make you overtake, it can make you cruise, Comfortably at higher speeds, even the stability of the car is good. But the turbo petrol engines that come in the market today, Like there are in the Seltos as well, they are much faster than this, comparatively. However, if you want better performance than this, Then you don't get turbo kick, but you will have to rev the engine a lot more, Which will make your performance even better.
So this is the old-school format, that you have to rev the car more for better performance, Whereas in turbo petrol you have to wait for the turbo kicking at 2000-2500 rpm, From where you get the actual boost in performance. So this is the differentiating factor. But the non-turbo version of the Seltos is much faster, And even its fuel efficiency is better than that.
KIA SELTOS DRIVE
Now it's time to drive the Seltos. Let's start the car, Shifting it to drive mode, And here we go. Now in the Seltos, you get three engine options. Petrol, turbo petrol, diesel, all three types of options are available for you. And manual, automatic, iMT, CVT, whatever you want, You get manual and automatic type gearboxes in all of them.
So I think this is the only car in which you get not only a lot of engine options, But you won't be disappointed in the transmission options as well. The 1.5-litre petrol engine, the non-turbo one, Gives you a lot of power in the city, on the highway, and it's quite comfortable to drive. It's not a problem, you can easily drive the car all day. It's nice and easy. So you have to take more in the city. On the highway, if you go above 100-120 kmph, It takes a little more effort comparatively, but it's pretty good enough.
The diesel engine gives you a lot more power, But that engine is only suitable for you if you have a lot of running, Then you'll go for the diesel engine because you get a lot of mileage there. Whereas if you look at the turbo petrol engine, Which is their new 1.5-litre engine, it gives you a lot of power. If you press the accelerator, there's a little lag, But it pulls so well.
Overall, you get a lot of performance. So their 1.4-litre turbo petrol engine was a little laggy, A little slow comparatively. So this engine is better for them. And you get a very good pickup in this. There was a major drawback in the Seltos, that its ride quality was very stiff. That is, if you go through potholes, you actually feel the potholes. But that's not the case anymore. Now its ride quality has become much softer than before. Overall, the handling of the Seltos is also good. We have no complaints. But remember one thing, the pickup you get is very good. At the end of the day, Seltos is a family car.
So here, first focus on comfort and then focus on the pickup. Because at the end of the day, it's not a sports car, it's a family SUV. So remember this one thing. But you'll enjoy driving the car. The steering wheel is light, you can see almost all the edges of the bonnet. The mirror size is decent enough. It could have been a little bigger, But it's decent enough there's no such complaints as such.
This is a very good package if you want a complete mixture of performance, ride and handling. One point I would like to highlight is that if you were driving a small car before this, And now you're driving a Seltos-sized car for the first time, Then it may take you a day or two to get accustomed to the judgement. Otherwise, it is not that difficult. You can drive it comfortably. On the highway, you'll get used to it in 15-20 minutes maximum.
BRAKING TEST
In the braking test, Elevate did pretty well. The braking was pretty good and confident. The Seltos felt a lot more confident comparatively. In the speed breaker test of Elevate, the seats were pretty comfortable and there were no complaints.
SPEED BREAKER
The ride quality of the Seltos has also improved. However, Elevate feels a little better. HILL CLIMB Elevate didn't have any problems in the CVT while going uphill. It was quite easy to get the car to move up. However, the Seltos with the turbo petrol was seamless. It was definitely much better in terms of pickup.
KIA SELTOS SECOND ROW SEATING
Three people can sit comfortably in the second row of the Seltos. Shoulder room wise, the knee room is pretty good. There are absolutely no complaints here. The headroom is okay not that great. The thigh support is also decent enough
VERDICT 
And for your safety, wherever you sit in the car, Ensure that you wear a seat belt every time. First, let's talk about Honda Elevate. Honda has given you a good-performance engine. An engine that gives you a good mixture of performance and mileage. And more than that, you have been given a lot of space. Which no other car can offer you at this price point.
You get the Seltos there, which gives you a lot of value in terms of features. If you look at the top end of Elevate, it costs around Rs. 19.5 lakhs on road in Mumbai. The mid-model of Seltos competes with the top model of Elevate in terms of pricing. So the features are a little more in Elevate and a little more in Seltos. That's your personal choice to pick if you are looking for a mid-level car. You get the advantage in Seltos that you get more features in the higher variants. Plus you have more engine options here comparatively. So the value in Seltos was always strong.
Now Elevate has brought it very close competition. If you choose any car, It's never that my neighbor bought this, so I'll buy that too. You should see what's best for your utilization. That's why we tested all these cars in great detail. I mean, will you ever go to the dealership and take these suitcases? Will you tell the dealership, I want to try the headlights at night. Will you tell the dealership that I brought another car, You bring this car here, I'll listen to everyone's music system together. You can't do that. So we're doing all that for you.